The retired football icon David Beckham turned the morning of a paramedic into a great one as he gave coffee for her and tea for her patient when both of them were waiting in the cold for an ambulance to arrive, proving once again that as well as being a great footballer, he is a great man.

Catherine Maynard is a London paramedic who was treating a patient a few days ago in Monday morning and as she waited for her ride to arrive, she stated that Beckham arrived and helped them out.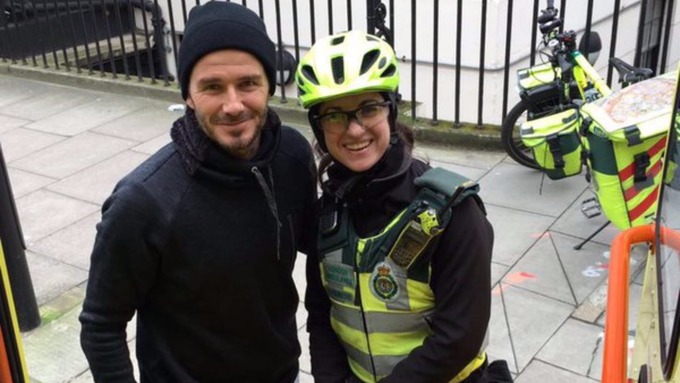 Maynard told the UK Media what happened. "All of a sudden, I looked up and saw someone who looked like David Beckham walking past us. He said hello and got in his car. I said to the man I was treating, 'I think that was David Beckham.' Ten minutes later, he came back with a cup of coffee for me and a tea for the patient. We were both very amused and flattered"
The contributions of David Beckham certainly did not go unnoticed as he is receiving praise for what he did and the
London Ambulance Service appreciated the kindness
from Beckham and released a statement which read: "he respects hard-working paramedics and even a gesture as small as buying a cup of coffee makes our crews feel appreciated."
The patient that Catherine Maynard was treating was later treated for minor injuries. The London Ambulance displayed their appreciation as they wrote on twitter: "Thank you David Beckham for buying a tea and coffee for Cycle Paramedic Catherine and her patient."
It goes without saying that Beckham was a great footballer - he won countless Cups and European titles in his time at United, Real Madrid and LA Galaxy - helping all three of them to be title favourites year-on-year-on-year. He even had his hands on the prestigious European Cup in 1999.
As well as being a great man and footballer, Beckham is also a great father. In recent weeks, he has been seen moving around from different cities with his family, taking time off to shop in Los Angeles with his kids in a skate store, and constantly being seen at Basketball matches as well as other sporting events.
The latest big tournament that Beckham attended was the Super Bowl 50 and the Englishman went with his son to this acclaimed competition which had over 150 million viewers registered from television and broadcasting channels, not taking into consideration all of the supporters who went to the stadium and watched everything take place live.
David Beckham was happy to see his son Brooklyn
going to his very first Super Bowl
and he displayed his excitement by writing on twitter: "SUPER BOWL BABY..... My boys first one so you can see by his face he is excited." The hugely popular father and son uploaded selifes where they could be seen holding a ticket to the 50th edition of the Super Bowl which was held at Levi's Stadium in Santa Clara, California.
Lady Gaga, Coldplay, Bruno Mars and Beyonce were the main celebrities which starred in this event as they entertained the crowd with live performances. Lady Gaga performed the national anthem before the game kicked off in full force and her performance was considered to be extremely good as she even shed to tears a few of the players as well as fans who were seen around the stadium.
Coldplay later kicked in during half-time as the British band opened up the half-time show by singing Yellow and Viva La Vida before Bruno Mars and Mark Ronson arrived to perform their hit song Uptown Funk and Beyonce continued the show by singing Formation.
The match concluded with the
Denver Broncos claiming the victory
with a final score of 24-10 as they earned their 3rd Super Bowl title.