LAPORTA MADE FALSE CLAIMS
Submitted by

content

on Wed, 12/09/2020 - 11:33
Lluis Bassat has revealed that former Barcelona presidentJoan Laporta was able to secure his presidency in 2003 by falsely claiming that the club had signed David Beckham.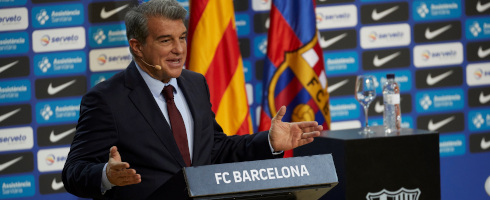 The signature of the England international was sought after back in the 2000s when it was becoming clear that he would leave Manchester United after falling out with Sir Alex Ferguson.
One of the few clubs could afford his signature was Barcelona, who were believed to be in the race to sign him. However, Beckham eventually went to Real Madrid, who were the front-runners for his signature throughout the race.
Even though Beckham never went to the Camp Nou as a player, Joan Laporta appears to have profited immensely from his false claims, according to Bassat. Back in 2003,Laporta made statements like Barcelona being able to sign Beckham. However,Bassat reveals that his investigation behind the scenes give up a different story since become had already signed for Madrid by that stage. In order to make up for his inability to bring in Beckham, Laporta went for PSG star Ronaldinho, who would then become one of the greatest players in the world.Laporta has since been ousted from the presidency with a lot of discrepancies.
"Something happened because a few days before the elections I had 42% in voting intention while Laporta had just 9%. Then I called the head of the advertising agency that manages the Manchester United account, the Ogilvy group.This person had a few days ago offered, in my office, to find sponsors for Barcelona like he was already doing with United. I called this man and said 'Laporta says he has signed Beckham,' and he told me 'no, no, he is already signed by Madrid," said Bassat about the potential of Beckham ending up at the Camp Nou.